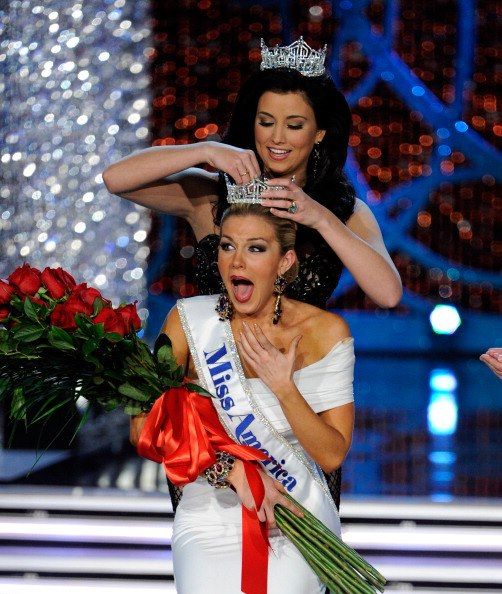 https://www.facebook.com/photo.php?fbid=394245167333376&set=a.
394245094000050.93772.358615787562981&type=1&theater
First and foremost. I just really wanted Texas to win. She is so pretty, I LOVED HER DRESS, and I just felt like she had that "it" factor. But that didn't happen.
Here's how it fell for me:
(purple crowns indicate a correct prediction)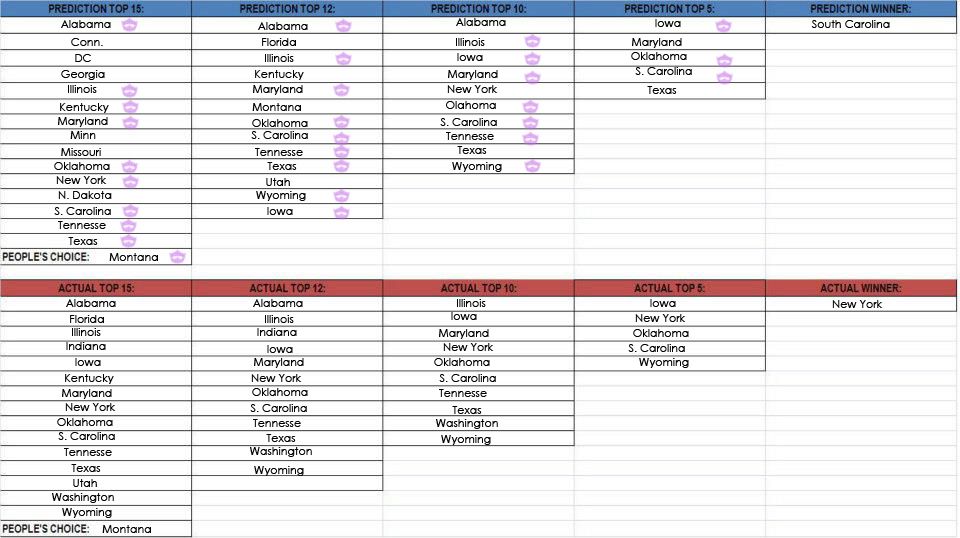 Many of my choices came from preliminary results, and buzz from pageant Chris and Miss America Junkies. Then they came from scores I gave during the pageant it's self. I can tell you now that I kicked the winner right out after swim because she scored rather low for me. But the fact that she continued on means her interview was top notch.
(insert ah ha moment now that we've seen her speak several times)
Now I am no pro. and my score sheet proves that. After typing it up so show on my blog, I was pleased with myself, I'll pat myself on the back.Something that I appreciate about the Miss America program is what is sought after in the end. To understand what I am talking about let me explain a little.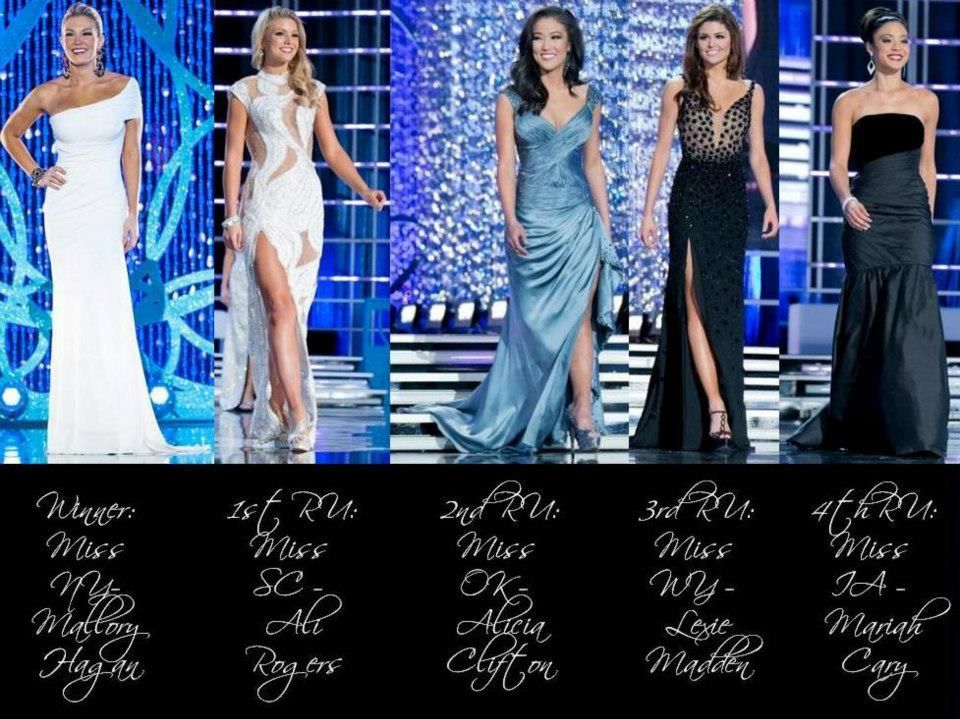 https://www.facebook.com/photo.php?fbid=393657547392138&set=a
.392022287555664.93252.358615787562981&type=1&theater
Once the top 5 are announced, all the scores are wiped clear. The judges get the names and list them in order of preference. The judges are given a job description of who Miss America is. I am making guesses that it was someone who is relate-able human as a first impression, tender, high moral standard and can handle the job with a humble and happy spirit. The Judges then rank them from 1 to 5 based on who they think fits this job description. For every first place you are given 10 points, second, 6 etc... When I first learned about this, I was a little annoyed thinking "then what's the point of scoring" However, I have come to love it, and this year helps me explain why.
So New York wasn't ever on my favorites list. Never even thought about her other than "I don't have many picks from that section of the country...I should pick someone." But S. Carolina was. I had told several people how I wanted Texas to win, but was afraid that S. Carolina would. She's a nice girl I am sure, but there was something about her that was too perfect, too much for me to love. Even now I would make bets about how she probably won based on points.
(Now that you know the winner is the person that can do the job)
Just in case you were wondering how it all played out...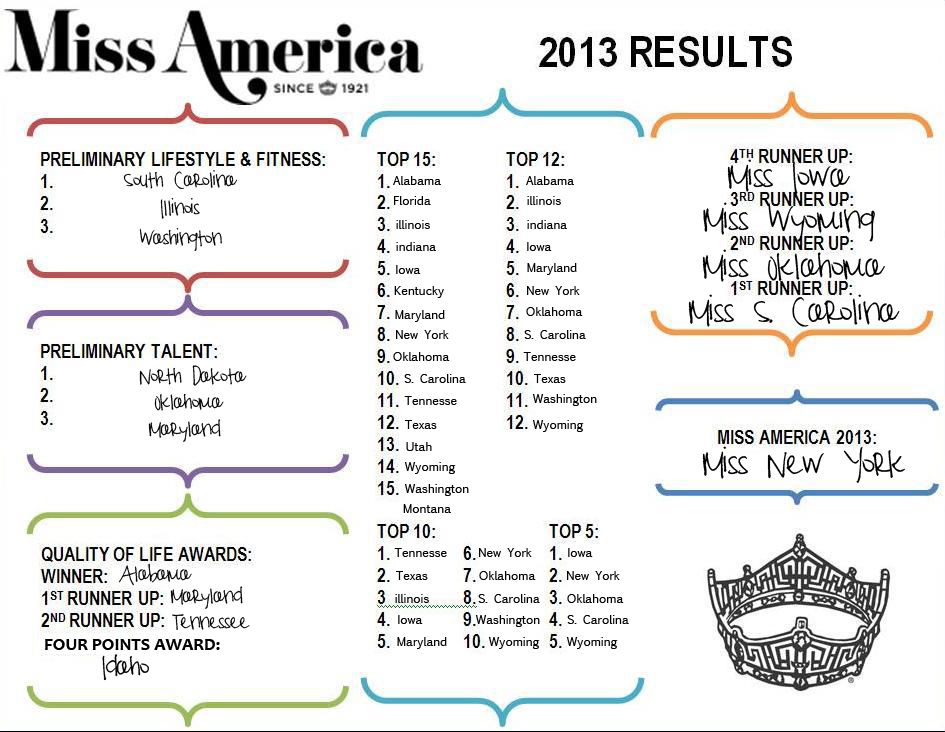 I have since watched a few interviews and videos of New York, and she is just a wonderful girl. I have now re-watched the pageant and noticed that as she is standing there with S. Carolina, NY tells SC "you've got this" and is reassuring her that she has won.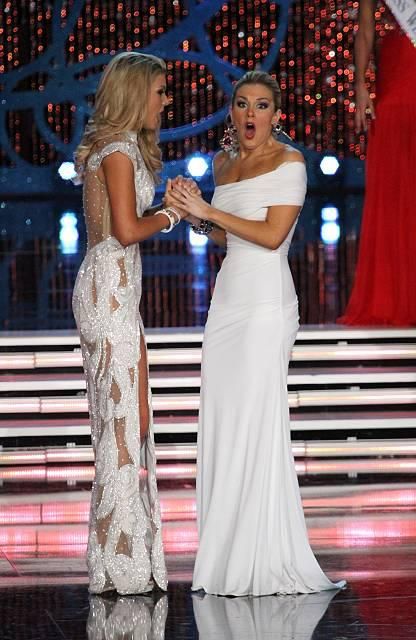 https://www.facebook.com/photo.php?fbid=394247467333146&set=a.
394245094000050.93772.358615787562981&type=1&theater
I am SURE that the reason she is Miss America is not because she is the most intelligent or qualified on paper. It's because she is the girl that will take the opportunity and run with it. She will be happy, grateful and drink it in as life changing. I think she is humble and real. I think she is a real woman that loves and serves those around her. Of course she stood out as a winner to the judges.https://www.facebook.com/photo.php?
Remember when we all applied for scholarships and they all seemed to go to all the people that did everything, and had the most to show for it? I am so glad that someone who is inspiring and wonderful won. She deserved it, and good for her. I saw several comments about how the program was a joke because of her choice of field (cosmetics) vs. someone who deserved it more because they were going to be a doctor etc. Given, I had a little laugh about her degree title, and was surprised because I have never heard of that as something you could major in, but whatever. The girl wants to become involved in the marketing of a major Cosmetic distributor as a career. Let's applaud the woman for coming up with a way to boost her resume in a way nobody else in the field can do. Pageantry Major deal for makeup? Can you say the girl is opening doors (hello Artisty makeup company main sponsor to the Miss America program) to becoming extremely lucrative, possibly more than many doctors? I deem that as a really successful endeavor and totally Miss America worthy.
Disclaimer
I don't claim my blog to be an open forum for derogatory comments. Comments written intending to bring negative feelings will be deleted.